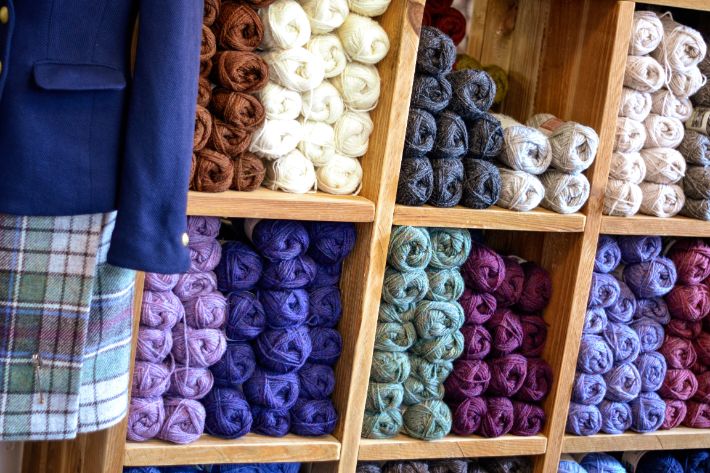 Traditionally Spun Yarn – Powered by Hydro Electricity – Made in Scotland 
At New Lanark Spinning we are the proud spinners of quality woollen yarns. We specialise in producing high quality woollen yarns for knitting, hosiery and also the weaving and textile trade. We have been an accredited members of the Soil Association for our Organic Wool since 2006.
OUR YARN
With hand knitters in mind, we produce Double Knitting, Aran and Chunky Wool in four qualities:
Silk Tweed - A blend of wool and silk for a touch added luxury.
Heather Mixtures - A carefully created range made from 100% Pure New Wool and composed of multiple dyed colours blended together to reflect the beautiful Scottish countryside.
Natural Undyed - Made from 100% Pure New Wool, this undyed yarn is a blend of Kent lambswool.
SPINNING SERVICE
Sustainably produced on historic machinery
We also offer a spinning service for your own wool with a minimum weight of 100 kilos of scoured wool. Some of our shades offered were designed by our in-house spinners, for an added unique element that is specific to New Lanark Spinning Company.
All of the Yarn produced at New Lanark is spun to the highest quality on our 19th century machinery which is powered by renewable energy generated on site by our water-powered turbine to keep our environmental impact to a minimum.
CONSERVATION
Supporting our heritage at every step
New Lanark Trust has pioneered heritage-led regeneration and since its formation in 1974 has transformed a derelict site into one of World Heritage status. The last block of former millworkers' housing to be restored is Double Row, which was a vacant and dilapidated terrace of eight four and five storey properties on Scotland's Buildings At Risk Register.
The first phase of this important project has ensured the survival of this A Listed building of international architectural and historical significance by restoring it as residential accommodation. Re-investing the income we generate can then be used for this ongoing conservation and preservation of the World Heritage Site at New Lanark.
ACCREDITATION
Soil Association Organic Approval
New Lanark was the first wool spinning production unit in Scotland to achieve the Soil Association's organic approval. Our shade range varies from 40% British Wool to 100% British Wool Content.
We produce over 40 different colours and sell Aran, Chunky and Double Knitting from our British wool to standard UK weights, making our yarn ideal for hand knitting. Our Aran, Chunky and Double Knitting yarn come in three ranges: Donegal Silk Tweed, Heather Mixtures and natural Blend.